SHAH ALAM, 2 Dec: The Sultan of Selangor, Sultan Sharafuddin Idris Shah today reminded everyone to not manipulate his attentiveness and his role in mosque institutions to gain publicity.
According to His Royal Highness,his attentiveness is born in the exercise of his duties as the head of Islam in Selangor to ensure that Islam continues to be respected and dignified .
"Hence, I hope that my attentiveness towards mosque institutions in Selangor will not be misinterpreted by certain quarters who wants to gain publicity by manipulating by role.
"We are truly want to see Mosque Institutions contributing to the progress and development of Selangor," he said.
His Royal Highness said this while delivering a speech at the opening of the Mosque Management Seminar held at the Lower Hall in the Sultan Salahuddin Abdul Aziz Shah Mosque in Shah Alam today.
Also present was the Chief Minister of Selangor, Tan Sri Abdul Khalid Ibrahim.
He also reminded the Mosque Committee members to restrict negative matters in the mosque such as the play of politics, the spread of heresy, schism in qariah and non-commissioned lectures.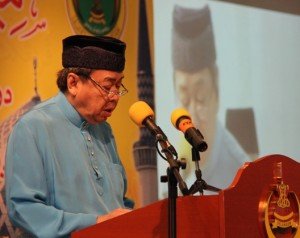 He also wants the mosque to be a 'one stop centre' that offers a variety of services.
These, for example are tuition, internet resource centre, hospitality functions such as marriage ceremonies, lectures and health screenings, family management talks, financial management and other beneficial activities to the Muslim community.
In Mosque Management Seminar programme, Sultan Sharafuddin also managed to meet and acquaint with mosque officials who were at the seminar.
An estimated of almost 300 participants consisting of mosque officials from the whole of Selangor participated in the one-day programme.
Program organised the Selangor Islamic Religious Department was held to provide information for the mosque officials will function and responsibilities in managing and mosque.