PUTRAJAYA, 18 Dec: Health, Plantation Workers, Poverty and Caring Government Exco, Dr Xavier Jayakumar today submitted 631 blue MyKad application forms to the National Registration Department (NRD) headquarters here.
The applications are the applications from legitimate Malaysian citizens from Klang who have, until now, yet to receive the blue MyKad as any other citizen.
Among those involved were those who have been through the application process for decades, but still have failed to obtain the blue MyKad.
"They are made up of 467 Indians, 110 Chinese and 54 Malays from all over Klang.
"Some have the red MyKad although they have long been applying for the blue MyKad, they have come to the NRD for many times and have still yet to obtain it till some of them have lost faith in the NRD and have given up in trying," said Dr Xavier after submitting the application forms to the NRD.
According to Dr Xavier, this number of applications are part of the 300 thousand who still do not have MyKads as recently claimed by PKR Vice-President, N Surendran.
"After this we will gradually submit them (applications) and if necessary, we will also work to bring the applicants along," added Dr Xavier.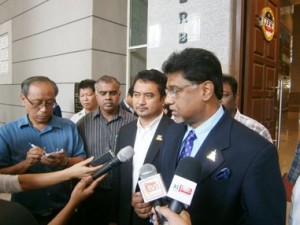 According to Dr Xavier, many of the MyKad applicants are from severely poor groups who have no education and do not have proper knowledge regarding the MyKad application procedure.
"These include the elderly and the extremely poor, so they have missed out on their right to receive various forms of assistance be it from State Government programmes or those from the Federal Government," he said.
Dr Xavier added that apart from the elderly, the future of youths involved will be bleak when they do not receive any formal education from fully government-aided schools
Regarding the same issue, Dr Xavier has also called for related Excos from other states to act pro-actively in taking similar measures to address the problem of citizens who have yet to own MyKads.
Earlier, Deputy Director General of the NRD, Abu Hassan Dahaman had received 631 blue MyKad applications from Dr Xavier and his delegation.
Apart from Dr Xavier's participation in the delegation, AMK Vice Chief, Azmizam Zaman Huri was also present.